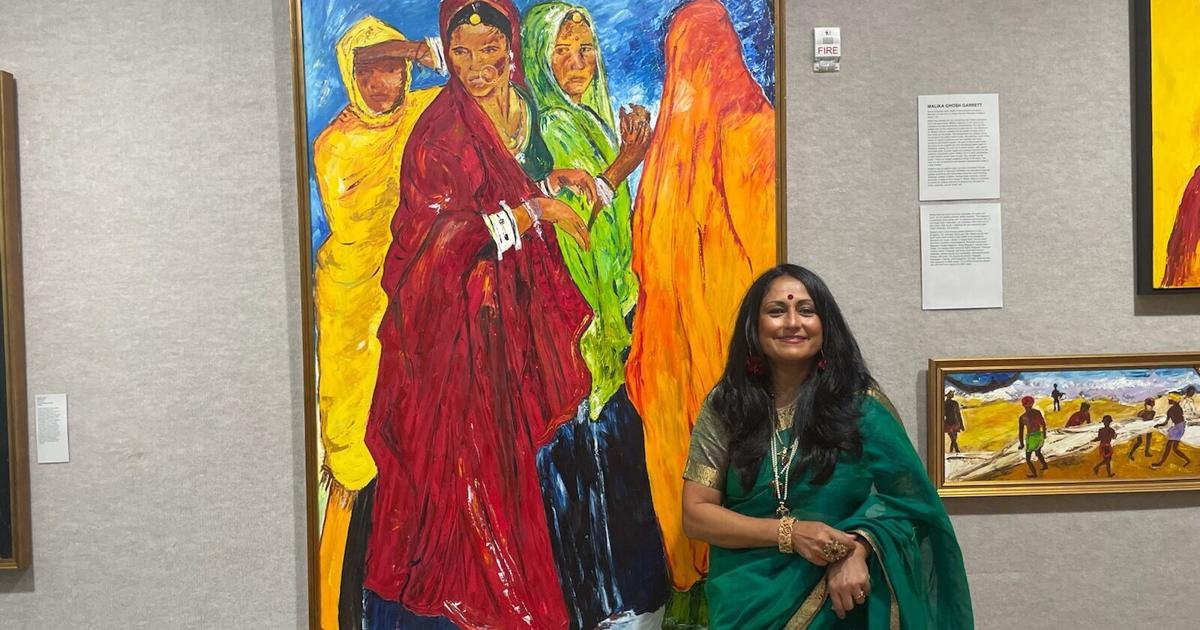 ALPHARETTA, GA – Since the early 90's, artist Malika Garrett has sought a kind of "Indian color" for herself and her colleagues.
She wanted a space where artists from India could come together to showcase their work, express Indian culture, traditions and history, and help dispel some of the stereotypes that Indians are often trapped in. did.
"There's a lot more to India than IT," says Garrett.
Born in Kolkata, India, Garrett moved to the United States in 1985 and attended Wesleyan College in Macon, where he earned a BA in Visual Arts. Using oils, she paints everyday people in bright and bold colors to represent the fashion and mood of India.
"I have devoted much of my work to women," said Garrett. "Most of my work is about women. Indian women are very strong. They run the show – and surprise, surprise, but most women do."
Celebrating its 51st anniversary in community service, the Indo-American Cultural Association (IACA) and the Alpharetta Arts Center partnered to present the 'Colors of India' exhibition. Those interested can visit and see the work at the center until September 23rd.
Garrett, who played a key role in organizing, called the exhibition the first of its kind. Although IACA has hosted other showcases in the past, 'Colors of India' is the first external exhibition, said IACA President Chand Akkineni.
The gallery's 15 artists, all female IACA members, presented and spoke at the reception on August 6th. At the reception, conversations were lively among the 260 attendees, artists and Center staff. Many had plates filled with various Indian delicacies such as Cal Kati's chicken and aloo kati rolls, Nalan's idli, samosas and chicken tikka.
Later in the night, Atlanta-based singer/songwriter/pianist Anita Isola will perform. She has toured nationally and performed for former President Barack Obama, Isola incorporates influences of jazz, blues and Indian classics into her original songs.
About 50,000 Indians have moved to Alpharetta and nearby Cumming and Johns Creek in the last 10 to 15 years, according to Akkineni.
"I really thought it was time for us to get to know each other," Garrett said.
Garrett's daughter, Arya, also exhibited her artwork on the show.
Aalia's biography states: She wanted to depict the ups and downs of each and the complexity that arises from the conflicting perspectives. "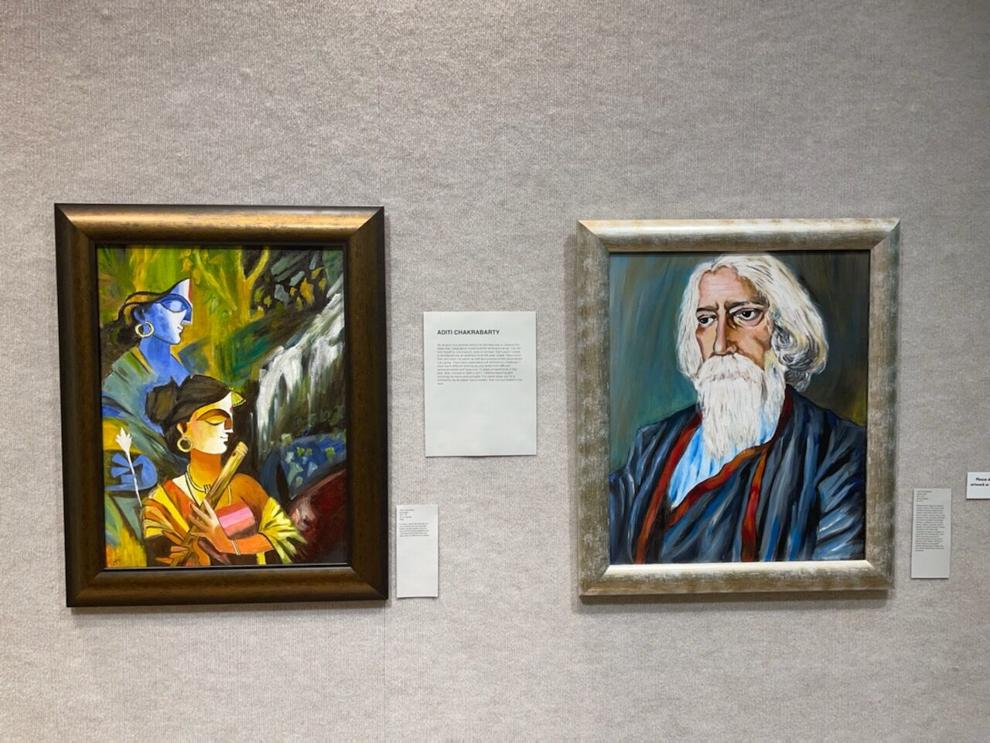 Like Garrett, part of the inspiration for artist Aditi Chakrabarti comes from a desire to pass on Indian culture to her daughter. One of her works is an oil painting by Rabindranath Tagore, the only Indian to win the Nobel Prize in Literature. Chakrabarty came to the United States from West Bengal, India in 2011. Tagore is also from West Bengal.
"My idea was to put a picture in front of her to show that he's sitting in front of you so you can go with your flow.
Every 'Color of India' artist has a unique journey and message to convey, which adds to the larger idea behind the exhibition. India and Indian Americans are not a monolith. There are many ways to be.
Artist Neha Patel explores how Indian culture continues to evolve and chooses to do so through a contemporary lens. Patel takes time-honored iconography, like He Om, for example, and creates simple, emoji-like designs with the current tech-savvy generation in mind.
"When everyone thinks of India, they think of a version that's a bit old school," said Patel. "My job as a creative is to upgrade my work."
The IACA will also host its flagship event, Festival of India, on August 13th at Gas South, Duluth. Flag marches, culturally rich performances, art exhibits, and seminars on topics ranging from yoga to immigrant political beliefs are held.
.